When I first went gluten free, I felt alone. I felt confused. I felt emotional. I felt hungry. I felt like everyone viewed me as the "skinny girl" who was constantly eating bananas, peanut butter, Chex, and salad after salad in the cafeteria. I felt like no one understood the true significance of my diet; not to lose weight but to feel better and live a life free of stomach pain. I felt like no one realized how sick gluten made me feel, and when I had to cancel plans because I was glutened and stuck in the bathroom, I felt even even worse. (note the number of times I used the word felt).
These negative feelings went on for about 2 months, and then I realized that I needed to step out of my comfort zone and talk to someone who was going through the same thing as me. Enter, my gluten free friend, Abby. Throughout high school, I knew Abby as a friend of a friend, but it was not until this past year that gluten brought us together. I remember talking to her at a grad party just over a year ago, which is where I learned she was gluten free (and dairy free) as well. Abby was diagnosed with Celiac Disease in her early teens. This is much earlier in comparison to myself- I tested negative for CD almost 2 years ago, but I follow a gluten free diet due to gluten sensitivity. Nevertheless, we are both going through the same thing. Yes, we might have different types of symptoms, but if one thing is for sure, it is that we both hate gluten with a passion.
I reached out to Abby last year when I was struggling both physically and emotionally to adapt to the gluten free diet. She has been such a great friend and support to me. I am so thankful that we are able to vent to each other about our struggles and victories of living gluten free. Unlike my family or other friends, I feel like I can tell her anything, especially pertaining to gluten. She listens unconditionally and does not get mad at me for complaining about my stomach issues, as do others. We also share a love for coconut oil, oatmeal, baking, and making random gluten free concoctions (her most random included an oatmeal parfait with lactaid ice cream. Sounds stangely good, right?!) Most importantly, Abby never fails to make me laugh with her great sense of humor, even after I have been glutened. For example, I accidentally glutened myself last weekend (for the first time in almost 5 months) eating mini altoids. Yes, that's right. Normal altoids are gluten free, but mini altoids are NOT gluten free---say what?! They contain wheat maltodextrin, stated in small print on the label. I learned this after eating the entire package of mints. This goes to show that gluten is hidden in the most tricky of foods, therefore label reading is extremely imperative.
When I get glutened, I usually have a delayed reaction by a day or two, and the symptoms tend to last up to a week or more depending on the situation. Right after I realized I had glutened myself, I sent Abby a message telling her what had happened. Instead of letting myself freak out at how sick I was to become in the following 24 hours, I decided to stay [somewhat] calm and hope for the best. Abby made light of the somewhat dark situation, and her humor [funny snap chats], as well as her encouragement, helped me get through the worst of my glutenening.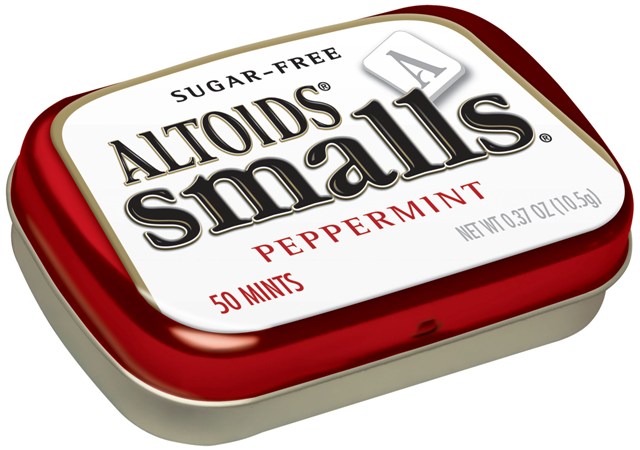 DO NOT EAT MINI ALTOIDS. NEVER EVER!!!!
Now that I look back on this story, I realize that the humor Abby applied towards the situation really helped me calm down and laugh at my own mistake. This time, I felt more determined to push through the week even though I felt like a complete train wreck. This is just one example of why Abby is a great gluten free friend. I truly hope that those of you with CD or gluten sensitivity can find a gluten free friend who you can reach out to. Having a gluten free friend who is going through the same hardships as you makes life a whole lot easier. Once again, I want to give a huge shout out to my gluten hating partner in crime, Abby. You rock, GFF!!
Question: Do any of you have a story about you and your gluten free friend? In what ways has your GFF helped you in your gluten free journey? Comment below! I would love to hear stories!